News Releases
Bridge using aluminum road bridge plate decks constructed firstly in Japan
April 20, 2011
Nippon Light Metal Company, Ltd.
Bridge using aluminum road bridge plate decks constructed firstly in Japan

Nippon Light Metal Co., Ltd., (President Takashi Ishiyama; Shinagawa-ku, Tokyo) has constructed a bridge using aluminum road bridge plate decks (hereafter the plate decks) for the first time in Japan.


At present, concrete or steel materials are used for road bridge plate decks. However, there is a problem that the aging of bridges result in the fatigue damage due to repetitive loading and deterioration due to corrosion, etc., and it is predicted that the number of bridges requiring repair or reconstruction will rapidly increase. NLM Group has realized lightweight and high durability plate decks by subjecting large-sized aluminum alloy sections to FSW (friction stir welding) to fabricate the units (Photo 1). The weight of this product is very light, that is to say, about 1/5 of conventional concrete deck plates and about 1/2 of steel plate decks, and the product has prefabricated construction enabling installation of plate decks as units. Therefore, it is possible to install the units using a small-sized construction machine (Photo 2) to minimize the occupied area of road and the time required for installation. When replacing an old bridge with a new one, it is possible to reduce loading to bridge girders and piers, enabling to expect the improvement of seismic resistance of bridges.


The Japan Science and Technology Agency entrusted NLM Group with the development of the plate decks as entrusted development, and NLM Group tackled the development from March 2008 to September 2010. The approval by the Agency in December 2010 that the development is successfully completed resulted in the bridge construction this time. In the construction work this time, the superstructures of the existing deteriorated bridge over the river inside Kambara Complex of Nippon Light Metal Company, Ltd., were replaced with new ones according to the main specifications shown below:


Name of work:
Construction work for Kambara Chemical Bridge (Photo 3)
(Location: Inside Kambara Complex of Nippon Light Metal Company, Ltd., Kambara 161, Shimizu-ku, Shizuoka City, Shizuoka Prefecture)
Bridge length:
4.56 m
Total width:
12.82 m (Effective width 11.92 m)
Pavement:
Epoxy asphalt pavement
Plate deck:
Aluminum plate deck


In addition, the bridge-opening ceremony was held in April 19 and the bridge was opened to traffic.


Hereafter, NLM Group will accumulate actual proof data of secular change to propose the replacement of existing deteriorated concrete plate decks with new products and the adoption in the sites and the coastal districts where the weight reduction of plate decks is required, while taking advantages of this product.


Photo 1 Aluminum plate deck unit



Photo 2 Installation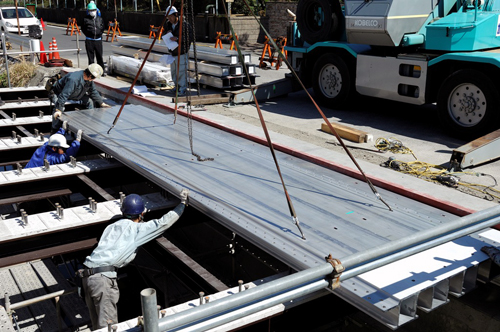 Photo 3 Completed Kambara Chemical Bridge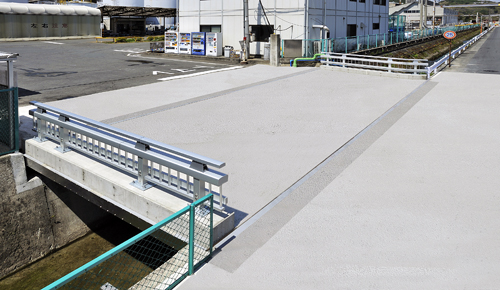 Inquiry for release: Publicity and IR Section, Nippon Light Metal Co., Ltd. TEL: +81-3-5461-9333 Inquiry for products: Nagoya Branch Office, Nikkeikin Aluminium Core Technology Co., Ltd. TEL: +81-52-231-0899