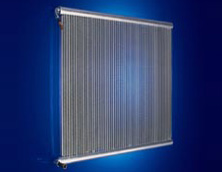 Nippon Light Metal offers High Performance and High Quality Aluminum Heat Exchangers Worldwide
Nippon Light Metal's Heat Exchanger Division sells all aluminum parallel flow type heat exchangers produced by Nikkei Heat Exchanger Company, Ltd., which is the joint venture between Nippon Light Metal and Modine Manufacturing Company in the U.S. and also manufactures and sells various types of heat exchangers.
Nippon Light Metal offers high performance and high quality aluminum heat exchangers that meet applications and design requirements of the customer and provides associated attentive services. Additionally, in cooperation with Modine Manufacturing Company, the joint venture partner, we can offer products and services worldwide.